You can debate about the relative effectiveness of digital media for "upper funnel" vs. "lower funnel" marketing objectives all day long. But there is no argument over the distinct advantage that retail media has over mainstream channels through its ability to directly drive consumers to available product inventory for immediate purchase (which kind of turns the purchase funnel into a really fast water slide).
That's why Walmart Connect has been busy lately finding partners and tools that let it offer advertisers a menu of shoppable media options that can be deployed to send interested consumers right to the shopping cart. Here are a few of the opportunities that the world's largest retailer (yes, it still is) has rolled out in the last few months.
Social Media Posts
Walmart continues to leverage its own social platforms to capture consumer attention for unique, exclusive products and provide options for shopping immediately within the platform.
That gives brand advertisers additional opportunities to reach shoppers with relevant information about products while they are engaged in social activity. This can be a great cross-promotion opportunity for brands whose category shoppers are open to social engagement.
Livestream
The social activity includes livestream events, like one promoting fall home décor conducted recently in a partnership with popular influencers Bethany and Amanda of the 8-year-old Whoa Wait Walmart? blog. Used to drive seasonal sales, livestreams appeal to the younger Gen Z and Millennial demographics, allowing viewers to add products to a cart without pausing the videos or leaving the media platform. The events give brands a chance to generate awareness and engagement among the attendees who don't end up clicking through.
Meanwhile, a recent Walmart Live "Happy Hour" featured celebrity chef Rachael Ray touting her eponymous Rachael Ray Nutrish line of pet food, appealing to her large fan base (and animal lovers) by telling stories about her dog over cocktails. As elsewhere, attendees (the target is younger shoppers here, too) can easily add products to a cart without pausing the video or leaving the platform.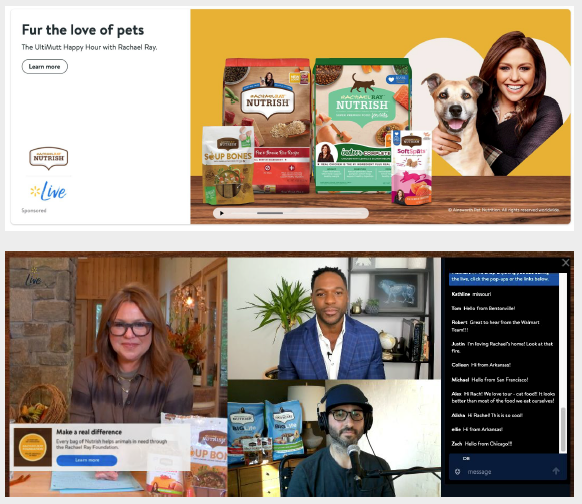 Shoppable Recipes
The world's largest grocer has partnered with leading media company Meredith to bring together the best of first-party data for a robust e-commerce experience delivered via shoppable digital advertising. The partnership's enhanced technologies will allow busy families to find and prep their meals faster with help from AI-powered planning tools, shoppable recipes, visual searches and chatbot assistance.
While planning the meals, consumers can add the necessary recipe ingredients directly to their Walmart.com grocery cart and order for pickup or delivery. Available activations include videos on TikTok, a Walmart-exclusive "bookazine" of recipes, and a voice-activated experience for Google Assistant.
Meredith boasts that its multi-platform media portfolio — which includes Allrecipes, Better Homes & Gardens, Parents, EatingWell and Real Simple — reaches 95% of women in the U.S. Most of us already know that Walmart has 150 million weekly shoppers.
On-Site Shopping Assistance
Speaking of partnerships, award-winning fashion designer Brandon Maxwell joined with Walmart to bring to life an interactive styling app on Walmart.com showcasing apparel from two retailer-exclusive brands, Free Assembly and Scoop. Using a four-step quiz, Maxwell creates a unique style for each participant, who can then "Shop the Look" that is presented. The effort is bringing New York-style high fashion to communities across the U.S. — at an everyday low price, of course.
At The Mars Agency, we are committed to being leaders in innovation. To help our clients stay ahead of the competition in a fast-paced and constantly evolving marketplace, we closely monitor any and all news across the Walmart ecosystem so clients stay "in-the-know" about this key customer. Kandi Arrington, SVP-Customer Development, heads up our Walmart team in Bentonville. Reach her at arringtonk@themaragency.com.