Note: The Path to Purchase Institute named this campaign "Best Digital Media Activation" in its first OmniShopper Awards program this fall.
PROBLEM TO SOLVE
Henkel's 'all blue brand laundry detergent was losing its identity with shoppers and retailers alike. A brand once known as a leading "stainlifter" had lost some of its "reason for being" as cleaning power became table stakes within the detergent category, leading to a year-over-year sales decline. As the category grew through the innovation of more powerful formulas, formats and fresh scents, the 'all blue brand's shoppers slowly began switching, trading nostalgia for newer innovation and deep discounts.
BUSINESS OBJECTIVES
The mission was to restore retailer and shopper confidence in the brand, secure its existing shelf placement and increase quality merchandising by attracting lapsed users and regaining their loyalty. Specifically, our objectives were to:
1. Increase overall sales and velocity of liquid and unit dose SKUs.
2. Grow the brand's share at key retailers to secure ongoing shelf space.
TARGET AUDIENCE
● Demographic: The primary target was moms 25-44 years old with kids (toddlers to teens) and an average household income of $67,000.
● Psychographic: They're stressed by too little time and money. They don't think about the laundry process or follow specific steps. ("It's just a chore to complete.")
● Geographic: While this was a national campaign, we activated in 47 high Brand Development Index/Category Development Index markets that covered our top accounts: Walmart, Kroger, Target and Albertsons.
CORE INSIGHT
Marketing in the laundry category tends to cater to consumers looking for the most powerful clean, appealing to their desire for a high-performing regimen. But that approach misses the 55% of moms who consider laundry a chore and just want to get the job done with as little fuss as possible.
For those moms, 'all still had an opportunity to be their brand due to its trusted heritage as the stainlifter, a straightforward detergent designed to easily remove common kid stains like grass, mud and chocolate — the messy stains that go hand in hand with an active home. Our insight spoke directly to this mindset: "Happiness is measured in moments, not loads."
CORE IDEA
With a strategy centered on, "Let's put life before laundry," the creative team was able to celebrate the messy fun of being a mom and what matters to her most, her kids.
ACTIVATION
At a time when consumers were facing some serious issues due to the pandemic, we focused on the simple joys of creating messes with the family. We leaned into this idea through custom influencer content on how to get messy coupled with fun, inviting imagery. We delivered this new brand message through a comprehensive omnichannel plan designed to drive brand awareness and growth.
We focused on two outreach strategies that would engage these moms throughout their purchase journey. The first was national activation in high BDI/CDI markets, and the second was retailer-specific engagements at our top accounts: Walmart, Kroger, Albertsons and Target.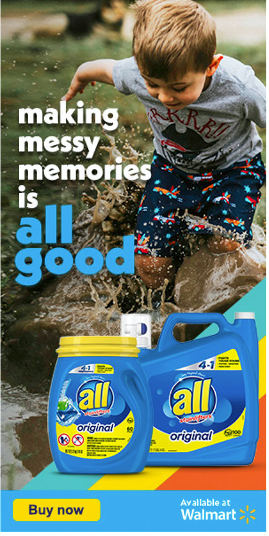 The engagement plans for both strategies concentrated on three pillars of tactics and messaging: awareness that celebrated the mess making, conversion that reinforced the brand's RTBs (reasons to believe), and loyalty validating the target's own process as "'all good."
Nationally, the plan focused on branded content on Pinterest and paid media that inspired moms to create messes and have fun. At a time when these moms were seeking fresh ideas more than ever, Pinterest's visual discovery platform was the perfect venue to share the "'all good" message with the target audience. We also layered content through Ibotta to deliver purchase incentives, and used Basketful to provide seamless purchase integration.
For the retailer-specific engagement, we identified high BDI/CDI markets, overlaid retailer geographic data, and allocated dollars where they'd have the greatest impact. At Walmart, Kroger, Albertsons and Target, we leaned into tactics that inspired shoppers and also were important to that retailer's buyers. Vendor and influencer selection was tailored to each account, ensuring retailer acceptance and shopper connectivity.
We engaged shoppers at the most influential touch points along their journey through social influencer outreach, digital and mobile media both on and off retailer platforms, branded content on retailer websites, paid search, and in-store signage. We leveraged shopper data to find lapsed and high-potential new users, converting them from shopper to buyer with "add to list" and "buy now" integrations.
RESULTS
During the campaign, dollar sales increased 15% overall vs. the prior period, but rose 21% and 49% at key accounts Kroger and Walmart, respectively. Meanwhile, Target experienced its biggest impact in online sales in the period, posting 201% growth vs. the prior year.
In addition to sales growth, the campaign delivered +40% dollars per total distribution points on our core items vs. the prior year, contributing to our goal of driving shelf space in key accounts. This growth changed the conversation with buyers from item decline to item
support.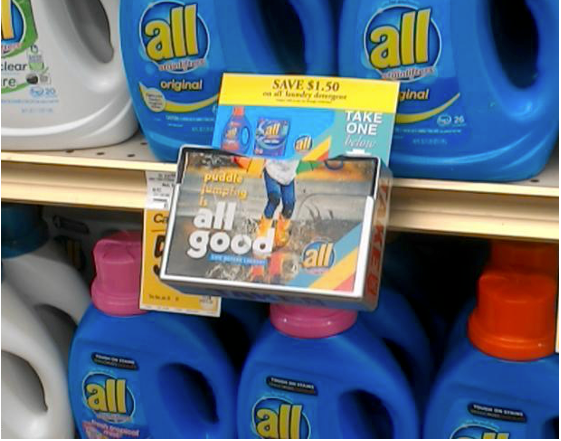 We also achieved our quality merchandising (QM) and velocity goals with a +25% QM at Albertsons (to reach an 82% rate) and +17% unit movement at Kroger vs. the year-ago period.