Award: Conducted in 2020, this campaign earned the Path to Purchase Institute's OmniShopper Award for Best In-Store Digital Media Activation in November 2021.
PROBLEM TO SOLVE
The Sam's Club team at then-Nestle Waters (now BlueTriton Brands) came to the agency in May 2020 with a request to help launch its "big bet," Sanpellegrino Mixers. The team was able to sell in the mixers to the 250 Sam's Club stores that had liquor stores but needed a strong idea that would create in-club disruption to drive sales and gain full distribution for this new item.
With all the uncertainty surrounding the Holiday 2020 season given the ongoing COVID-19 crisis, the team had legitimate concerns about hitting the forecasted sales goals and gaining full distribution given the following key barriers:
• A significant decline in club foot traffic, which is always critical for driving sales of a new item at Sam's Club.
•An inability to sample the product in clubs due to the pandemic.
•An inability to use signage or handouts due to the retailer's clean store policy.
• The item's bulk size and cash outlay during a recession, which often makes members hesitant to spend money on items that aren't already on their list.
• An inability to sample through Club Pick-up due to the product's glass packaging.
BUSINESS OBJECTIVES
1. Drive impactful sales. Activate a program that gets Sam's Club members aware and excited about the availability of the new mixers to drive substantial sales.
2. Increase product distribution before the launch. Execute an innovative plan that would inspire the Sam's Club buyer to get behind the launch and provide full distribution across all 600 club stores (up from the existing 250).
3. Drive awareness, consideration, purchase, loyalty and advocacy among all shoppers of the category as well as carbonated soft drinks.
TARGET AUDIENCE
The "CEO Mom," women seeking solutions that will help them successfully manage their families and their lives.
Behaviorally:
1. Members who are looking for cocktail/mocktail inspiration
2. Current liquor purchasers
3. Lapsed sparkling water/carbonated soft Drink (CSD) purchasers
4. Current sparkling water/CSD purchasers
Geographically: 45% live in the South/24% live in the Midwest
Demographically: 67% Caucasian/19% African American
Psychographically: Faith & family are central to her life. She stays busy juggling her many tasks, which includes a career-orientation for half the target group. She places a high value on her ethnic heritage and is less concerned about the environment.
CORE INSIGHT
The perceived difficulty in launching a new item at Sam's Club during a pandemic was the key barrier to a successful launch. Overall, foot traffic was down in clubs, so the treasure hunt that members love so much was off the table.
We knew our "CEO Mom" was in a state of COVID message fatigue and yearning for media that did not make her think about the crisis. With that in mind, we needed to break through the COVID noise not just outside club but within stores, delivering an engaging experience that could bring some fun and a bit of normalcy back into her life.
However, positive messaging alone would not be enough. Once in-store, our shopper's mindset was to get what she needed quickly and then get out. Therefore, we needed to deliver an easy-to-use experience that she could engage with both in the club and also at home.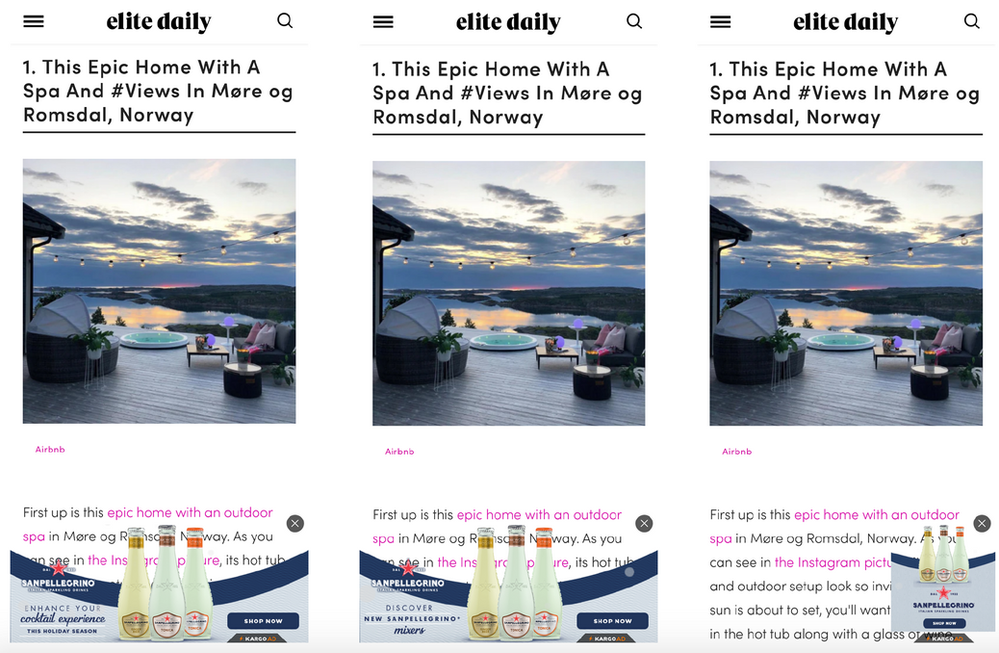 CORE IDEA
"Cocktail 101" learning is best when it's a one-on-one experience. But how do you get up close and personal with an expert mixologist when bars are off limits and your social life has been replaced by social distancing? By ordering up some augmented reality, of course.
The solution was a unique augmented reality experience that introduced the product's benefits as a mixer in an entertaining manner while compensating for the pandemic's impact: Shoppers who were in the store could scan an on-pack QR code to unlock the experience; those utilizing in-store pickup received a code-carrying handout; online-only shoppers were directed to samsclub.com to meet the Virtual Bartender.
ACTIVATION
With COVID-19 causing a shift in shopping behavior from in-store to e-commerce, the client needed help creating disruption throughout the new shopping funnel to drive sales. With in-club sampling of the product unavailable and Sam's Club's stricter clean store policy prohibiting signage, we had to find creative ways to convince members to buy Sanpellegrino Mixers in bulk.
We rallied together to find an innovative way to bring an exciting, engaging experience to members by leveraging the brand's partnership with Dante NYC, which provided exclusive access to the legendary Manhattan cafe's drink recipes: an AR-based Virtual Bartender. The concept played well into our insight that the CEO Mom was looking for brands to bring her products that would bring a bit of normalcy back into her life.
This strategic, innovative idea got the Sam's Club category buyer so excited that Sanpellegrino was not only awarded 3X the number of clubs for distribution but also prime in-store placement and space within the Sam's Club monthly Instant Savings Book.
Energized by this opportunity, the brand quickly reacted and worked with our team to modify the original content to better reflect the concept and better represent the brand at Sam's Club. We pulled out all the stops to cast talent that would keep members entertained, and we created a different "vibe" for each cocktail in the variety pack, drawing inspiration from the recipes themselves to determine the wardrobe, the bar set, and even the music for each.
We strived for the experience to be seamless, engaging, and to feel as close to visiting a real bar as possible — something that people were missing in a world of social distancing. We also landed on using the latest and greatest technology to accomplish this: WebAR, or web-based augmented reality.
This technology allowed members to scan an on-pack QR code to engage with the Virtual Bartender experience in about five seconds. The experience was also presented for online shoppers on a dedicated brand page at samsclub.com.
In the experience, Sam's Club members were invited to make a cocktail for themselves as the Virtual Bartender showed them how. This provided an entertaining way for them to learn about product usage while also getting entertainment tips for the holiday season.
On the video shoot, we captured content that could be used not only for the best-in-class AR experience but also for multiple other tactics including in-club-TV advertising, digital banners and rich media.
Ultimately, the experience was disruptive and engaging enough to convince Sam's Club members to buy a new product even though they couldn't taste it first. Jeff Storey, the Sam's Club sales lead at the client, stated repeatedly that it was "the best, most strategic and most fast-forward thinking work" that had ever come across his desk.
To address the evolution of order fulfillment methods, the campaign also included a code-carrying handout for shoppers who were picking up their online orders at the store and wouldn't encounter the packaging.
RESULTS
Purchase: In the first week of full distribution when all shopper tactics were live, the product sold 6,010 units — a 68% increase over the prior week.
Advocacy: Nestle Waters gained full distribution for the item in all 600 Sam's Club stores. This innovative idea got the buyer so excited that the brand was also given prime placement in-store and space within the Sam's Club Instant Savings Book.
Awareness, et al: Within the first two weeks, the AR Virtual Bartender experience attracted 2,286 active users, 8.5% of whom returned for another visit. The video completion rate of 68% surpassed benchmarks. The program concluded with 85,804 engagements and an average dwell time of 6 minutes, 50 seconds.
As use of the Virtual Bartender picked up, so did our rich mobile media, which drove 1.5 million engagements in the first week alone and 4.13 million impressions overall. Social influencers also had a big impact, delivering a 46% click-through rate on adding the item to cart on Samsclub.com. Our smart, strategic investments on a small budget paid off.
Additionally, the program helped build relationships with Sam's Club buyers.